EDINBURG, Texas — A Texas border police chief and one of his top officers have been formally arrested in in connection with marijuana that was alleged to have been stolen from the police department's evidence locker. The drug was allegedly mixed with alcohol to make a homemade remedy for joint pain.
On Tuesday, Sullivan Police Chief Miguel Angel Martinez and officer Angel De La Mora went before a state judge who unsealed an indictment out of the 275th State District Court and formally charged the two.
Court records obtained by Breitbart Texas revealed that Martinez was formally charged with one count of theft by a public servant and two counts of abuse of official capacity. De La Mora was formally charged with one count of possession of marijuana, two counts theft by a public servant, and two counts of abuse of official capacity.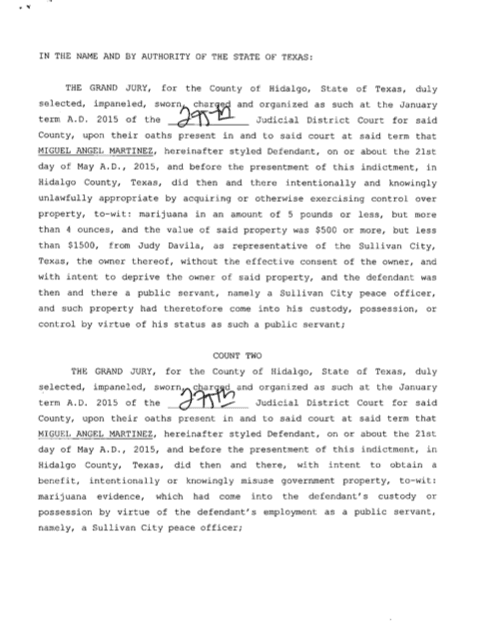 The charges in the multi-count indictment stem from a May 2015 incident when De La Mora allegedly went into the evidence room and took a small amount of marijuana while Martinez and other officers looked on. One of those officers reported the incident to the Texas rangers setting off an investigation in the criminal activity.
Sullivan is a small border city that has become one of the main drug corridors used by the Gulf Cartel. The bustling drug and human trafficking activity has allowed local law enforcement to be responsible for multi-ton seizures on a regular basis. The activity has also resulted in a revolving door of sorts where several law enforcement officials have been caught in illicit activity. 
Breitbart Texas previously reported on a raid at the Sullivan Police Department in June 2015 by the Texas Rangers looking into the theft of the drugs from the evidence room.
De La Mora is not stranger to controversy in March 2012, he was the target of an internal affairs investigation after a fellow officers found him snorting cocaine at a local strip club. As part of the investigation De La Mora was forced to take a urine exam which he failed. The officer resigned before he was disciplined in the case allowing him to keep a clean record. When Martinez took over the police department a short time later, De La Mora was re-hired and became one of the public faces of the department.
Another controversy involving De La Mora took place in 2012 when an expletive filled dash cam video was leaked to YouTube.com and showing De La Mora and his partner screaming insults in Spanish at a group of drug smugglers. The video was also controversial in nature because it showed the officers sticking their guns out of the car window while screaming multiple expletives in Spanish related to male genitalia to get the fleeing vehicle to stop. De La Mora did not receive any reprimands for that incident.
The officer made public appearances on local news outlets and was even featured in the National Geographic show Border Wars where De La Mora was seen chasing down drug smugglers and talking about the wide-spread drug trafficking activity in the area.
Originally posted by: http://www.breitbart.com/texas/2016/02/03/texas-border-police-chief-officer-arrested-for-allegedly-stealing-marijuana-evidence/